For every woman, pregnancy is an important experience and this phase can decide the overall future of her & her baby. Carrying out the best pregnancy workouts during this period can offer many health benefits to women. But what exercises should a pregnant woman try?
I have mentioned the 5 best pregnancy workouts that women should do during pregnancy to answer this question. Doing these workouts will not just offer a boost in the mood but also help women avoid body aches easily.
Swimming and Water Aerobics
Swimming and water aerobics can help pregnant women remain fit. In addition, doing this workout can give relaxation against nausea, sciatic pain, and puffy ankles. Swimming is one of the best pregnancy workouts for women to balance pregnancy hormones and feel happy.
Walking and Running
Walking is an easy-to-perform workout for pregnant women to remain fit. It is a workout that pregnant women can do till the last day of pregnancy. On the list of pregnancy workouts, walking comes at the top spot.
Aside from it, running is also a great option for pregnant women to maintain their overall fitness during pregnancy. However, while running, women must take care of the terrain when they walk.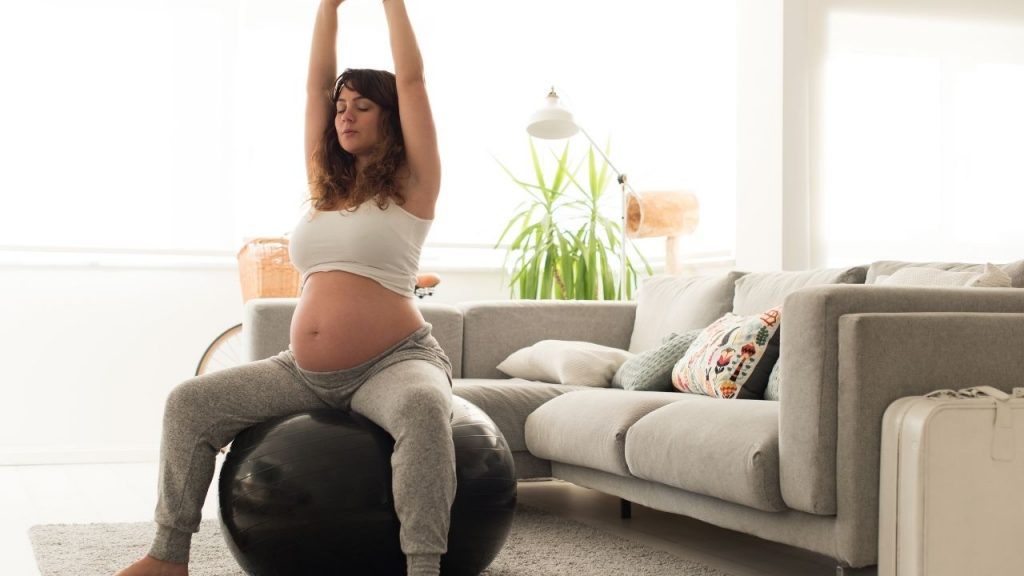 Indoor Cycling
Indoor cycling is a great exercise for pregnant women to keep themselves fit during pregnancy. In addition, it is a safe exercise to perform during pregnancy. Indoor cycling doesn't involve any risk of falling and it also doesn't put any pressure on ankle or knee joints.
Health experts say pregnant women must take a break when they feel exhausted. In addition, it is necessary to maintain the right balance while handling handlebars to avoid any injury during indoor cycling.
Stair Climbing
Stair climbing is another option on the list of the best pregnancy workouts for women. But, again, pregnant women should adjust speed, incline, and tension as per their comfort.
Also, they need to take care of their ability to perform this exercise as they enter new stages of pregnancy. Moreover, pregnant women must avoid stumbling while doing this workout.
Pilates
Doing pregnancy-appropriate pilates can help pregnant women strengthen their core and increase the length of muscles easily. Moreover, it also helps eradicate backaches and improves posture as well as flexibility.
Pregnant women should hire a trainer who can assign exercises specific to pregnancy. Accordingly, he can help a pregnant woman maintain her fitness well by doing Pilates.
So, these are some of the best pregnancy workouts that every pregnant woman should perform to keep herself fit.