Gone are the days when you had to spend hours fixing those fake eyelashes for any given party or glam event. With these eyelashes extensions available around, anyone can glam up their eyes for that special occasion within minutes. But yes, you also need to remove those eyelashes after been through with such parties or events. So, having the right knowledge regarding how to remove eyelash extensions comes of great help in all such situations.
How to Remove Eyelash Extensions at Home?
Although removing the eyelash extensions doesn't require you to be a cosmetic expert, you still need to be careful and cautious regarding the whole task. As a matter of fact, it's highly advisable to take the services of a professional if you are feeling hesitant in the same respect.
Most of the eyelash extensions contain surgical grade glue. So, even a small goof-up during its removal process may contaminate your eye with the chemical-based formula. The human eye stands as one of the most sensitive parts of the body. Hence, you cannot risk it just for the sake of a process regarding how to remove eyelash extensions. 
Nevertheless, there are situations when it's not possible for you to reach up to a salon and you got to take care of the task all by yourself. For all such circumstances and situations, you can just go through the steps and guidelines mentioned below. That said, you must stay extra cautious and careful in relation to the process regarding how to take off eyelash extensions.
Recommended Steps Regarding How to Remove Lash Extensions
1. Take a Hot Shower Beforehand
The first and foremost thing you need to do here is taking a hot shower. By doing that, you can easily loosen up the lash extensions before detaching them completely from the natural lashes. Still, while you do that, try not to pick or pull your lash extensions.
Doing this can cause some serious damage to your natural lashes. And it can even spread the bacteria to your lash line while creating an infection in your eyes.
The point here is to moisten up the eyelash extensions so that you can proceed with the rest of the procedure related to how to take off lash extensions.
While most lash experts advise not to get the lashes moist and wet to increase their life. Doing exactly the opposite thing can help you to get them off easily.
That said, you got to be watchful during the hot shower and keep the temperature of the water to a certain level or else you may end up hurting your eyes during the process. Try not to touch your eyes or the lashes or you may end up creating the infection.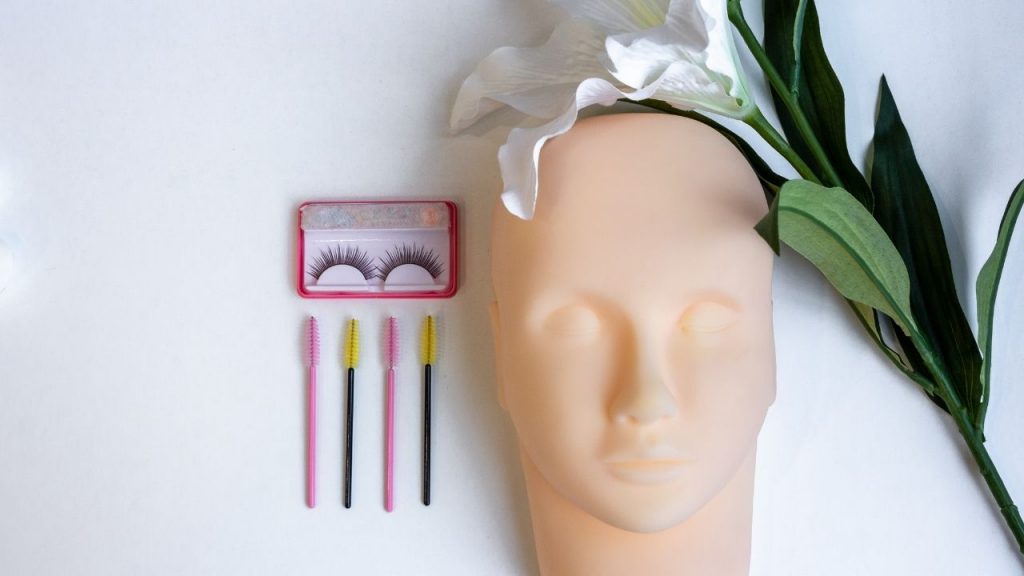 2. Use an Oil-Based Cleanser
Most lash artists recommend not using oil-based cleansers post getting eyelash extensions. As per them, these oil-based cleansers would dent the efficacy of the glue in those fake lashes. And that may lead to the loosening up of the lash extensions.
Now, as you're already worried about how to remove eyelash extensions, you can certainly use the same method in your favor. Yet, as you proceed with its usage, be really careful and cautious at every step. Try moving the oil in tender rounded motions to steadily dissolve the lash glue.
Moreover, don't expect the oil cleanser to do the magic overnight. It will take its time to bring on the required impact on the lash extensions. Once you achieve the desired result, gently wash it off with cold water the next day.
3. Use a Lash Remover
The skin surrounding your eye is quite sensitive. So, you really have to be extra cautious before proceeding with the task regarding how to remove eyelash extensions at home. If you don't like using an oil cleanser, you can further opt for a high-quality lash remover for the same purpose.
According to experts, it is possible to loosen up the lash extensions by taking hot showers. And it can also be done by applying an oil-based cleanser. Yet, if you want to ensure their safe removal without causing any extra damage to your eyes and skin, it is highly recommended to use an eyelash remover.
The solution in the lash removers is specially made to counter the impact of the superglue used in the eyelash extensions. So, while using the lash remover, you can easily dissolve the same glue without causing any harm to your eyes or skin around it.
Gently soak a cotton pad in the lash remover and carefully apply it to the eyelash extensions. Within few minutes, you feel that the glue within the lash extension is started to loosen up. As you do that, keep it off from your eyes or it may cause serious irritation or infection to it.
4. Use Castor Oil
Just in case you don't have the lash remover and feeling too concerned about how to remove eyelash extensions, you can also go for castor oil as a perfect alternative. As per several cosmetic experts, various oils like coconut oil, canola oil, vegetable oil and castor oil have properties to weaken the adhesive used in these eyelash extensions.
Once you take off all of your eye makeup, soak a small pool of cotton in castor oil and brush it up gently around your lashes during the night. While you do that, avoid the entry of oil into your eyes. Or else you may end up with some irritation or itching issues.
 Even though it happens somehow, immediately wash up your eyes with cold water. Castor oil is a natural oil and doesn't have any harmful impacts due to its chemical-free properties. Still, it all depends on how sensitive your skin is to all such oils and solutions.
5. Use Mascara
Besides using the oil cleanser, lash removers or castor oil, you can also apply a bit of mascara to get the perfect solution to your worries regarding how to take off eyelash extensions. Most of the Mascaras contain a good amount of oil and wax. So, they can really help you to moisten down the edges of this eyelash extension during the same procedure.
Even as you remove those lash extensions, do ensure to take proper care of the natural lashes. There may be a chance that your natural lashes have gone through some damage during the entire procedure. So, applying some Mascara or, any of the above-mentioned oil can work as a perfect post-lash extension removal care.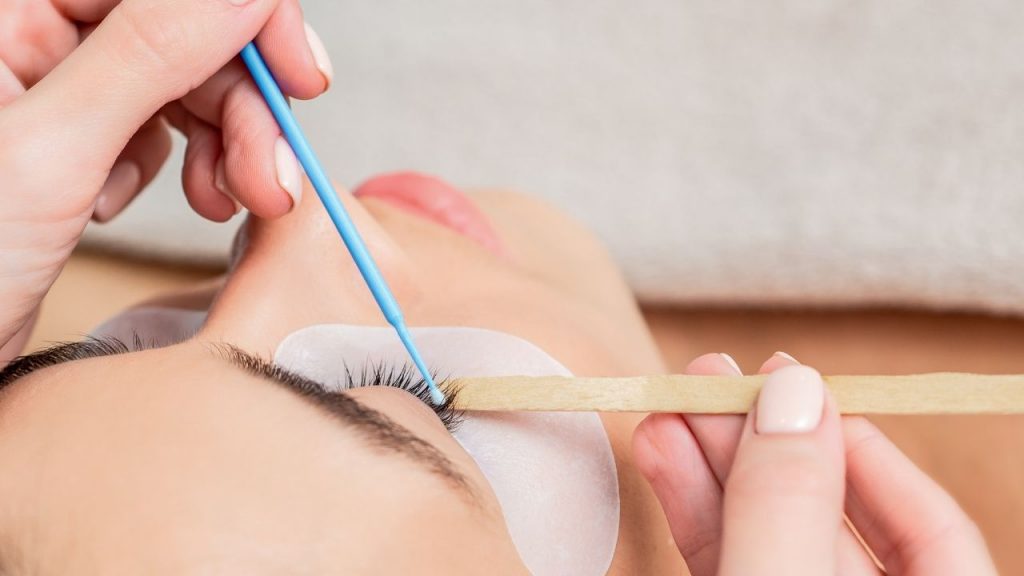 Points to Ponder while Removing Eyelash Extensions
Be Extra Careful
You must understand that you are not a professional lash artist. Hence you must keep all the good care and caution while proceeding with the task. Besides you really need to be extra cautious while applying all those oil-based solutions and cleansers on those lash extension.
Those lash extensions come in direct contact with your eyes. And even a small goof-up would leave you in a big spot of bother during the task. It's understood that the question related to how to remove eyelash extensions is still puzzling you around.
Still, you must know that your eyes are the most sensitive part of your body. Hence, you cannot take any risk while getting along with the procedure regarding the removal of eyelash extensions.
As you are doing this for the first time, try not to hurt your real lashes during the same procedure. Those are attached to the eyelash extensions so may get hurt during the lash extensions removal process.
Hence, you must take proper care while ensuring no harm to the real lashes. To stay extra careful about it, you can ask some of your close friends or family member to assist you in the task.
Don't Pull or Pick the Lashes
It's understood that you are in a hurry and need to take off those eyelash extensions as soon as possible. Yet it is not advisable for you to pick or pull and those lashes in whatsoever manner. Doing that could seriously damage your natural lashes and that can come up as critical situation upfront.
You may have all the urge to pick or pull those lashes while feeling confused about how to remove eyelash extensions. Still doing that can leave certain bald spots around your lash line. So, there is every chance that you may end up pulling the natural lashes along with the eyelash extensions while getting through any such effort.
The roots of those natural lashes are connected to the nerve within the eye area. Hence a little bit of carelessness may result in some serious damage to your eyesight or the region around it.
Pay Special Attention to the Post-Lash-Removal Process
Even as you have detached the lash extensions, you got to take care of the natural lashes by every means. Massage them with coconut oil or any eye lotion to lessen down the stress and pressure created out of the lash extension removal process.
Final Word
Go through the detailed steps mentioned above regarding how to remove eyelash extensions. And you can go through the entire process with utmost ease. Eyes come up as the most sensitive part of our body. And that's where you got to be watchful at every step.